Entertainment Weekly Rates "Comedians in Cars" #1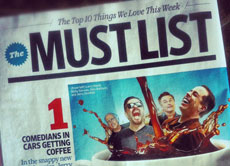 The premiere episode of Comedians in Cars Getting Coffee has been live for a week and it's already making headlines. This week, Entertainment Weekly ranked it #1 on their Must List.
I've been working on this project for nearly eight weeks and it's great to finally be able to share it with friends.
Check out an excerpt from the first episode with Larry David.