Mumford & Sons: Live from the Artists Den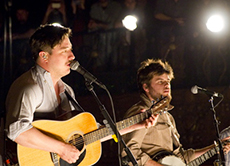 Last month, I had the opportunity to work with director Natalie Johns and filmmaker Pete Ohs on a concert film for the English folk band, Mumford & Sons. Filmed at the newly restored Belasco Theatre in downtown Los Angeles, the film captures the Grammy-winning foursome in the middle of their first US tour since the release of their #1 album, Babel.
The editing schedule was tight and the days were long, but I think we turned out something very special. Mumford & Sons put on one hell of a show and I think their performance at the Belasco cements their reputation as not just one of biggest new rock bands – but one of the best.
I'm looking forward to being able to post a full excerpt when the concert airs later this year.